Brian Haenchen, Wed, 15 Jul 2015 20:10:00 GMT
Missouri coach Gary Pinkel took his turn at the podium Wednesday afternoon at SEC Media Days. Here are some of the newsworthy nuggets from his Q&A session.
BRANTLEY OUT FOR THE SEASON
As most had expected, defensive lineman Harold Brantley will miss the 2015 season as he recovers from injuries sustained in a car accident on June 21.
The 6-foot-3, 280-pound, Pennsylvania-native racked up 54 tackles in 2014 with 5.0 sacks and 7.0 tackles for a loss over 14 games. His efforts were recognized by the Associated Press, which named him an All-SEC honorable mention, and had him pegged by many as one of the Tigers' top defensive players entering 2015.
"I think that (Brantley) would have been one of the best players in the SEC, and therefore in the nation — when he got in a car accident," Pinkel said. "The good news is he's going to be fine, most importantly. The good news is…(his injuries) can all heal, and he can come back and accomplish all his goals, and we'll get him back next year."
Brantley, a redshirt junior, was driving with women's basketball player Maddie Stock along US-63 just south of Columbia, Missouri when his car slid off the right side of the road, struck a guardrail and overturned. He suffered a fractured tibia as well as some ligament damage in his left knee, and fractured multiple ribs.
Speaking with local media members before his turn at the podium, Pinkel added a "small crack on his shoulder" to the list of Brantley's injuries and said he's expected to undergo knee surgery in the next few weeks.
Brantley underwent successful surgery to repair his broken tibia shortly after the accident.
In discussing the recovery process for Brantley, Pinkel drew a comparison to Henry Josey, who had to battle back from multiple injuries over the course of his career at Mizzou.
"He anticipated being an All-American this year and worked that hard to do and wanted to help us win. We're going to be on pause for a while, so we have to help him. We do that at Mizzou," Pinkel said. "He'll develop. And the great thing is he's going to be okay, number one. He can be 100 percent healthy, number two. And he can accomplish all his goals and graduate. But we'll help him through it as he goes."
THE RISE OF BECKNER?
The expectation for Terry Beckner Jr. seemed to be that he'd be able to step in and begin contributing immediately for the Tigers when he signed. But following the departures of Shane Ray and Markus Golden, and the dismissal of Marcus Loud, and now Brantley's situation, that expectation has turned into more of a necessity. The team is probably going to need the incoming freshman to step in and become a regular contributor right away.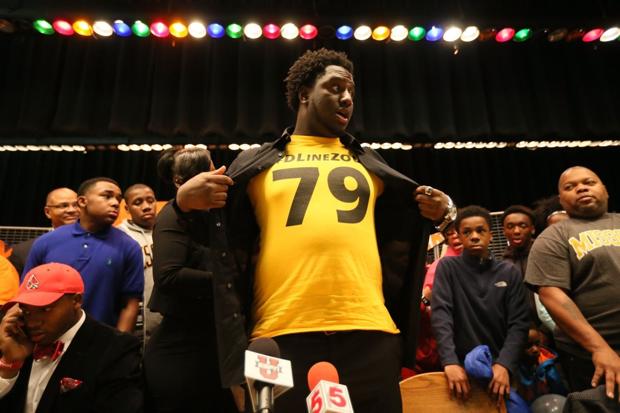 That would seem to create a lot of pressure for a young player, but according to Pinkel, Beckner's handled himself well.
"One thing about him, he doesn't get caught up in a lot of stuff. It's kind of nice," Pinkel said. "The shining light is not really him. I think he's a little bit shy that way. I just think we have to get him to focus on becoming a better player and keep his priorities right."
A five-star recruit out of East St. Louis High School, Beckner racked up 116 tackles, three sacks and an interception — that he returned for a touchdown — last season.
He chose the Tigers over offers from Ohio State, Auburn and Florida State, among others.
SOME GOOD NEWS IN THE BACKFIELD
Pinkel had some good news to offer on tailback Morgan Steward, who missed all of last season due to injury.
Pinkel says "very, very possible" Morgan Steward plays this year. Said he would have put it as "very, very doubtful" back in February.

" Dave Matter (@Dave_Matter) July 15, 2015
His health will do wonders for Mizzou's depth at the tailback position, which is important considering the massive turnover at the receiver position (more of a ground-and-pound approach).
Mizzou will also have Chase Abbington available. A graduate of Ft. Zumwalt South, Abbington is rated as a composite four-star recruit by 247 Sports. He was redshirted in 2014 after collecting 832 yards and nine touchdowns on 169 carries in 2013. He also caught 19 passes for 133 yards and a pair of touchdowns.
"He's out of St. Louis and a guy with great athleticism," Pinkel said of Abbington. "He's got size. He's a real big running back from our standpoint. I think he can be a real plus for us, if he takes care of his academics."
Abbington and Steward will join Russell Hansbrough and Ish Witter on the depth chart at tailback.
RIVALRY GAMES
It wouldn't be Mizzou at SEC Media Days without two things: The whole "respect" thing and questions about the Border War game with Kansas.
"Hopefully, sometime down the road we can get it in the beginning part of the season when both teams have good records, play in the early part of September, and get that thing going again," Pinkel said. "We've got to find a way — I think both fans would love it, and I think that maybe down the road that will happen."
In the absence of a Kansas-Missouri football game, the conference is attempting to establish a new rivalry, pitting the Tigers against the Razorbacks on the day after Thanksgiving. This "tradition" is still in its infancy stages, but both Pinkel and Arkansas coach Brett Bielema hope the "Battle Line" game remains on Black Friday.
"It worked out well last year in terms of the timing," the Missouri coach said. "We talk about the Kansas rivalry, it's historic from the Big Eight and the Big 12, but certainly I think the Arkansas, them just being adjacent states to one another, I think that it could really turn into a great, great rivalry. It would be nice if it was that big of a game that it was always on Fridays. That would be great with me."
"When that first came about, when (Razorbacks) athletic director Jeff Long called me two years ago and said, we're going to move that game, I said absolutely," the Arkansas coach said.

ABOUT THE OTHER ARKANSAS ON MIZZOU'S SCHEDULE
About this time last year, St. Louis Sports Commission president Frank Viverito discussed the possibility of bringing Mizzou football back to St. Louis. More specifically, he was working on bringing the Tigers' Sept. 2015 game against Arkansas State to Busch Stadium.
At the time, the chances of getting that game in town seemed pretty good. Though the Red Wolves would be giving up their game in Jonesboro, they'd be the one's splitting the profits with the sports commission (no 50/50 splits with Mizzou). Mizzou was on board. Even the St. Louis Cardinals, who are typically playing some meaningful games at that time of year, had given their blessing.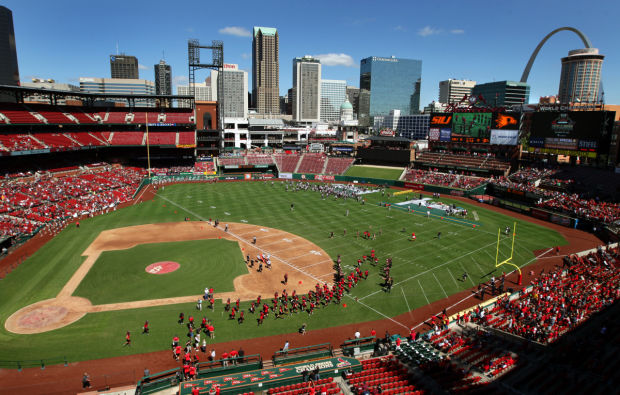 Everything was setting up for a Week 2 game right in Mizzou's backyard.
But then Arkansas State received a $5 million contribution for a stadium renovation project dubbed, the "Centennial Expansion." The project is set to be completed just in time for the team's first home game of 2015 — which just so happens to be against the Missouri Tigers.
What better way to break in a newly-renovated stadium than to play host to the two-time SEC East champions.
So, instead of opening the season at home against SEMO before making the short drive to St. Louis to play Arkansas State, the Tigers will be completing their home-and-home agreement in Jonesboro.
"That was the deal. That was the only deal we could get," Pinkel explained. "We thought we'd be able to move it to St. Louis possibly. We thought, at the end of the day, that's what would happen, but they don't want to do that. We would not normally (play a non-conference road game Week 2), but that's what we had to do in order to get the game."
---
Brian Haenchen covers Blues hockey, Missouri football and Saint Louis basketball for InsideSTL. You can follow him on Twitter: @Brian_Haenchen.