Brendan Marks, Tue, 25 Aug 2015 16:22:00 GMT
Former Arizona Diamondbacks outfielder Luis Gonzalez, most known for his walk-off hit to win the 2011 World Series, joined The Ryan Kelley Morning After on Tuesday to discuss several topics, including working with Tony La Russa, this year's Cardinals and his experience in that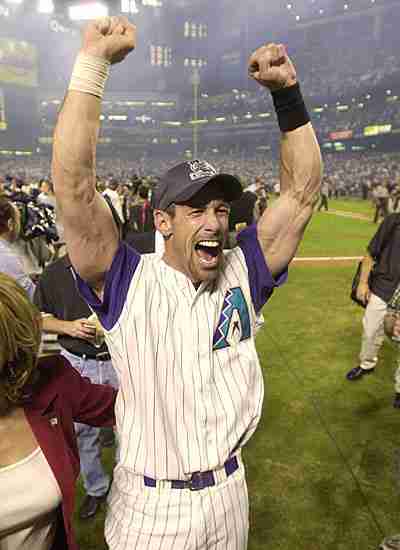 World Series.
We typed up a few excerpts from the interview. Listen to the whole thing below:
What's it like working with Tony La Russa:
"Very intense guy. Tony and I went to the same high school…in Tampa, Florida. I admired him growing up and played against him quite a bit in a lot of games, so I knew how intense he was in ballgames."
"He's still the same way. He sits up in the box and watches games very intense and taking notes…I think that's just in his DNA."
Did you break some of La Russa's records?
"I was able to play at a pretty good high school. Tino Martinez was my teammate. Fred McGriff also went there. It was nice to follow in their footsteps and make it to the Majors."
On the emergence of the Diamondbacks this year:
"If you look at our offense, everyone obviously looks at Paul Goldschmidt. But AJ Pollock is also having a terrific offensive year. We still feel like we've got a good team. We're probably one or two good pitchers away from really getting to that next level. I'm sure that will be the focus heading into the offseason."
On the 2001 NLDS with the Cardinals:
"That was the World Series for us. When we played the Yankees…we really think we played better than them, even though it went seven games. But the NLDS that year…every game was a nail biter against them."
On the thought that Tony La Russa got back into the game to show the "old school" baseball method can win:
"I think so. Tony's a grinder and he studies the game so much. These are baseball guys. The sabermetric stuff and things like that…he's changed a little bit with that. We have some guys on our staff who study that. You have to kind of adapt to the way the game has changed. But he still has an old-school mentality. No matter what the numbers say on paper, you still have to be competitive on the field."
On what it was like getting the World Series-winning hit:
"I remember thinking, 'This is what every kid, every adult dreams about when you're sitting in the backyard.' And to find myself in that situation…I was able to get it in the air and as soon as it left my bat…I knew it was going to fall in because of the way the infield was playing. It was just pure excitement. It brings back little kids days. To enjoy a moment like that with all my teammates is something I'll never forget."
Here's the complete interview: